When it comes to laser tattoo removal, we've seen it all. Botched cartoons, misspelled words, the names of ex-lovers. You name it, we've removed it with precision, professionalism, and expertise.
Recently, Victor was in Canada training the tattoo removal technicians at Nu Image Medical Esthetics. While there, he chatted with reporter Jacob Morgan about the Top 10 Most Commonly Removed Tattoos.
1. Names: Divorced? Chances are the first thing on your to-do list is de-inking your ex-lover's name. "As soon as they come from the divorce lawyer, I'm the first visit."
2. Bands: Thought Hanson was forever? Really believed in Chumbawamba? Think again.
3. Lower Back: "You'd be amazed how many guys have (lower back tattoos)."
4. Tribal: When will athletes learn? Popular around 15 years ago, they are now very not cool.
5. Cartoon Characters: There was a time when we thought Spongebob would live on forever. That time is gone, and that tattoo is just asking to be wiped away. We get a lot of people trying to remove cutesy cartoon characters, too.
6. Poor quality: This one's obvious.
7. Instant regret: A lot of instant-regret tats go along with the poor quality category. The truth is, your expectations are hard to match, so be careful what you get tattooed: "Your picture of a unicorn flying over a rainbow is much different than the picture in my head of a unicorn flying over a rainbow."
8. Meaningless Asian Characters: Shockingly, we don't see this type of tattoo as often as you might expect, considering it's popularity as a cliche in pop culture.
9. Eyebrows: You thought it might be nice to never have to coif your bushy brows again, but chances are you're rethinking the permanent 'brow route right about now. No worries, we'll remove those for you.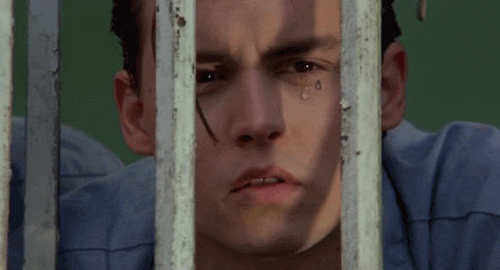 10. Prison Tattoos: Although Jeremy Meeks made prison tattoos look cool again (we can't help but think of Cry Baby), landing a gig with your prison gang's label splattered across your forehead is going to be a tough sell.
Have you had one of these classic tattoos removed? Still tossing the idea around? Let's talk.